Finally, get work done in Slack
Slack is where work happens - it couldn't be truer than that when I look at the time I spend and the messages I receive on an average workday. Besides the communication with my colleagues, there is a bunch of apps and custom integrations that push information into my channels.
In many ways, this made our team faster, less prone to miscommunication and finally our work more productive.
I love Slack but I was missing a coherent structure that helped me to organize and get things done.
I was regularly searching for messages and discussions
I missed actions that I had talked about with colleagues
I felt uneasy because I wasn't sure if every thing (message) was "done"
I missed the good feeling of completing my work and checking off some actions from a list.
First, I started to pin and star messages but that didn't really improve my working habits and did feel very structured and organized.
So I asked myself what a perfect solution would look like? What would I need?
Easy (fast) way to mark/capture important messages
A comprehensive overview and instant navigation between those messages
Trackable actions (mark actions as completed!!!)
Regular reminders to form a productive working habit
Integrated into conversations, so never ever leave the Slack UI
I realised that Slack cannot provide that out of the box. But the other reason I love Slack so much is that you can extend it. Not just simple webhooks that push infos into channels but also interactive messages and commands. So I hit the keys to see how far I could get. That is now one year ago. The little tool from that time has matured to an official slack app.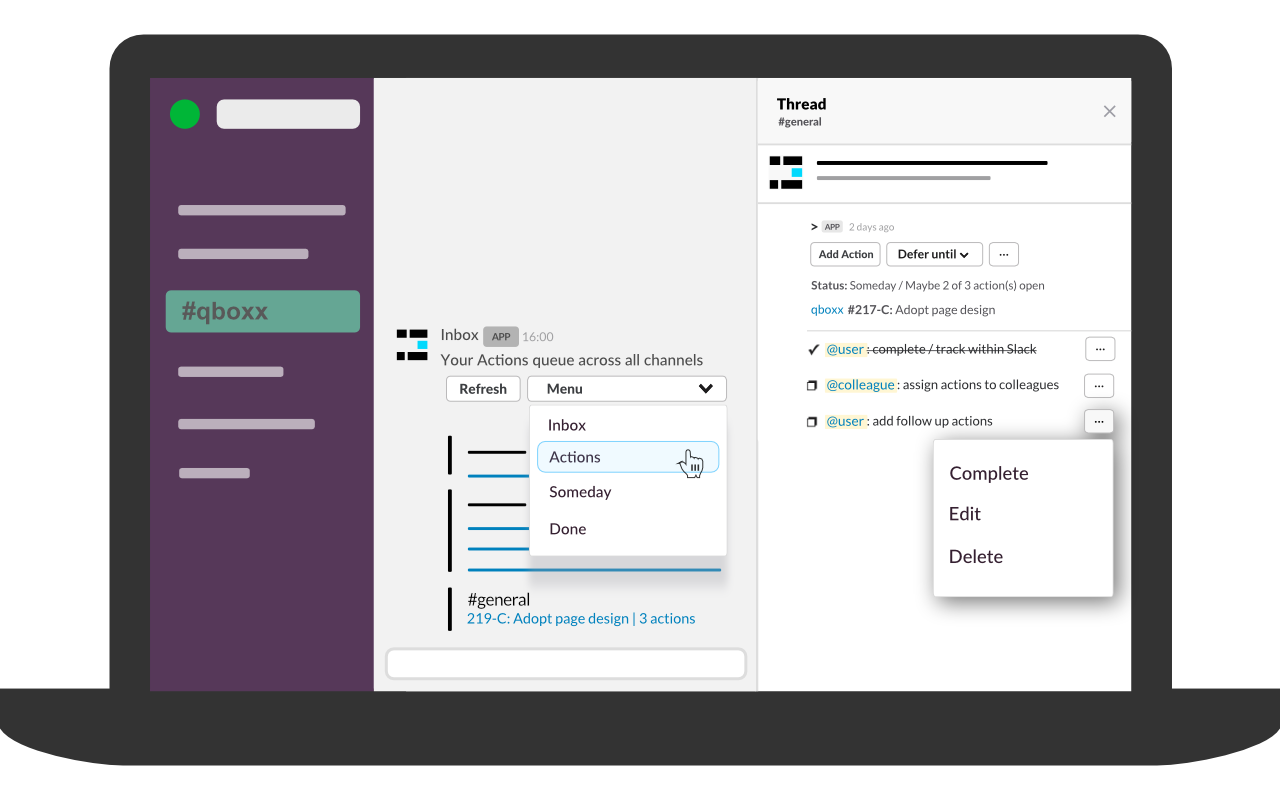 So, now I can simply capture all messages that I consider relevant for future reference. No matter if links I want to read, feedback from and discussions with my colleagues, or...
Everything ends up captured in my qboxx. I never miss those relevant conversations. I know where to find them. No searching, no unease feeling and actions get done either by myself or my colleagues. They don't fall under the table any longer.
If you feel/experience the same test run qboxx on your own. Tell me what you think or how it could be improved in our Slack group or on Twitter.
Back to Blog