Get an overview and never lose track again
Go to the overview - Getting things started
Slack is a great tool to bring relevant information together in one place.
With all your colleagues on board and external tools pushing into channels you actually can't miss a thing. But once you start working you want to know "What needs to be done?" "What needs to be reviewed - checked - or looked after?"
To answer these question qboxx is your tool.
Just type /qboxx in any Slack channel and you will see a list of all captured messages and actions (more on this later) in that specific channel. Don't be afraid. Even in general: just type /qboxx in the message box and press enter. No one else can see your list but you ;)
All messages that you have captured are listed grouped by their original channel and their state. You can easily switch channels or even see messages across all channels.
When you click one of the captured messages, its thread opens instantly on the right-hand side. You can instantly see the full message and all actions assigned to it. If you like you can even jump to the position of the message in the channel and see the entire context. The qboxx overview remains visible in the center.
Check it out and go from message to message and see what needs to be done.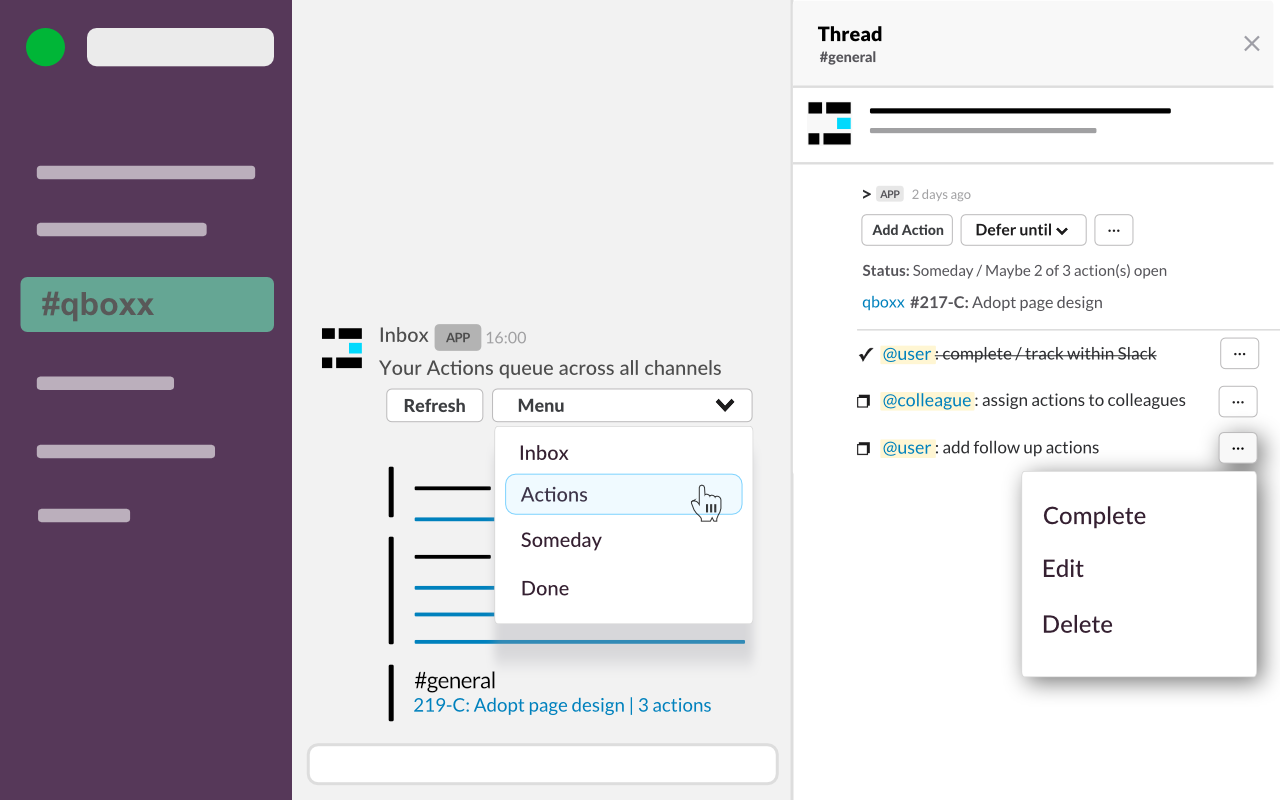 Messages are organized in three simple stages. Inbox messages, action messages and someday messages.
Inbox is the initial state of every captured message. Messages in this state do not have any actions yet. You should review them regularly and see if there are required actions or postpone them into someday / maybe.
In Action lists all your messages that need your full attention. These messages have actions that are assigned to you. Go ahead and get things done.
Someday / Maybe list all messages that have been manually postponed by you. You can move a message to Someday / Maybe at any time. You should look after these messages at least once a week and see if they became relevant again or can be deleted after all.
Messages in Someday / Maybe can get a "defer until" date. This means this message is postponed until a certain date and then comes back automatically. Use this if you want to be reminded at a certain date and know this message will be relevant again.
Messages get done (or completed) once all their actions (tasks) have been completed or deleted. Deleting messages does not delete the message itself but only all its actions and the possibility to track it.
You still have open questions? Feedback? Feel free to say hello in our Slack group
Back to Blog