Just capture it & Ease your Mind
Go to the overview - Getting things started
Capturing messages is the fundamental concept of qboxx. It is also the initial thing for whatever comes after it. A captured Slack message can be almost anything. An idea, a side note, a picture, a task you received, customer feedback or just a link - you name it. If there might be any relevance to this Slack message - just capture it. Why? Because it eases your mind. Saved in your Inbox you can clean it off your mind or even forget about it. What will happen next does not have to be of any concern right now.
In the beginning, it might feel awkward but it is important to understand that capturing messages is not about right or wrong. If it turns out that a message is not that important you can postpone it for someday or even delete it later on. Right at that moment, having it captured sets you free and eases your mind. All captured messages are saved by qboxx in your Inbox.
Of course, if you already have an idea about what needs to be done you can instantly create (an) action(s). But more about this later.
There are three ways to capture messages. The first two ways you find next to every message under the more actions button. When you hover over a Slack message you can see it in the top right corner.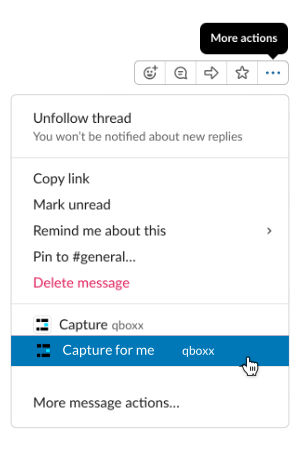 If you do it the first time you have to click More message actions... first and search for it. Once you have done it, it will be immediately visible when you click: more actions.
Capture
When you Capture a message, this message will become actionable for the entire channel. Everyone can create actions for this message and even assign actions to other channel users. The status of the message will also be visible to the entire channel. You want to use this option to delegate actions to other users or you intend to work together with them to get things done. It's important to note that qboxx does not send any messages to other users as long as you do not assign them an action. So do not be afraid to disturb other channel users.
Capture for me
As the name implies this option captures a message just for yourself. If there is no one else you intend to work with and you just want to have it for your own reference you should use this option. When you click Capture for me qboxx will save this message to your Inbox and send a short reply in the message thread <your_name> added this message to his personal qboxx to keep track. We do this so you get a notification if someone else writes in that thread.
Capture in your qboxx
First of all your qboxx (channel) keeps track of all captured messages and provides you a daily overview of everything that is ongoing. Besides that, you can use it as a general inbox dump. Everything you post there will be captured for you. You could use it to dump interesting links, documents you want to review, "stupid" ideas that just come into your mind, all kind of things you are working on but haven't finished yet. Your imagination sets the limits. E.g. I love to dump my meeting notes into my qboxx. I just take a picture with my smartphone and send it to my qboxx slack channel. Try it out. It couldn't be more convenient. Once captured you cannot lose it until you delete it from your list.
You still have open questions? Feedback? Feel free to say hello in our Slack group
Back to Blog